---
RE: Randy & Manilla (Help for developing) - ofihombre7 - 04-08-2020

It has happened again. I think I have lost another composer for my project, first it was

Jake Gamelin

for the great fail that was the

Kickastarter

campaign, and now I have lost another one I had on

Fiverr

and it offered me a very good service for OST, and this time the problem was that we didn't have very good communication. At the beginning we were doing very well and it was a relationship that lasted 4 months, but because the "so good" soundtrack that did it to me, it raised my head and I got desperate when I was about to give myself the deliveries.

I was trying to remind him that there was little left for deliveries by repeatedly putting messages like that, but they didn't really contribute at all, because

Fiverr

already made them remember. Finally they gave me the deliveries, but he no longer wanted to provide me with the service again. All because of my forced impulses.

I am starting to give myself I am part of the problem of the development slowdown of

Randy & Manilla

.

---
P.D.: Ok, never mind. At the end we had an agreement to serve me again, because I have been able to apologize and admit my own mistakes.
I just hope an instinct of mine doesn't make me mess up again, because this seems like a last chance.

(These kinds of situations remind me a bit of

Ralph Breaks the Internet

).


---
RE: Randy & Manilla (Help for developing) - ofihombre7 - 05-01-2020


During these last months, i have been doing my best to offer this version, all

Indiegogo

funds have been invested successfully and from time to time I have ordered with one of the members from

Discord

server. Everything here in this list of updates I will show you below: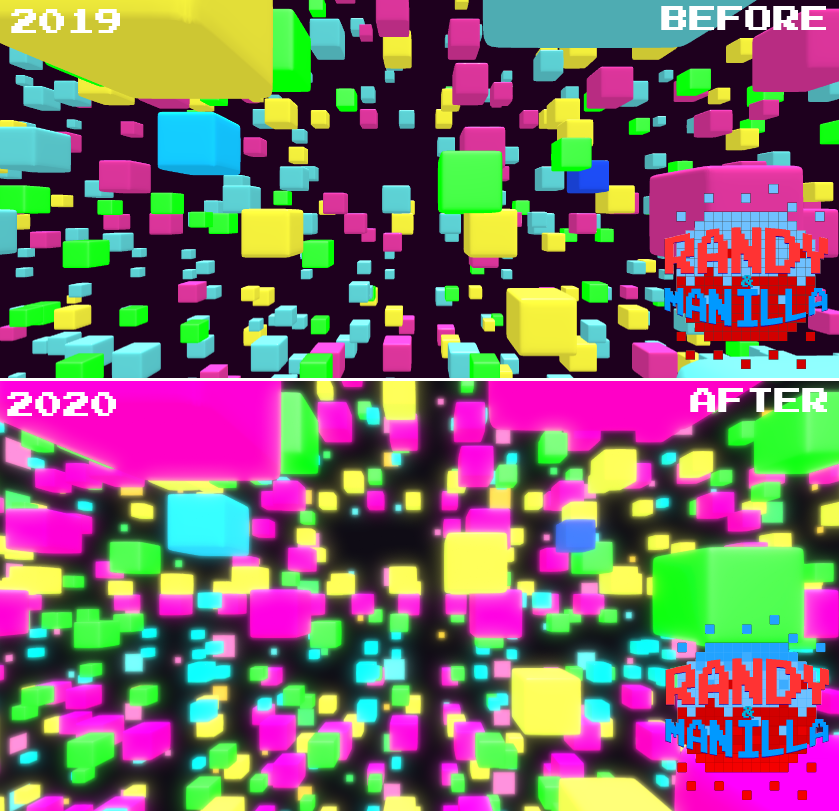 In the first point, the

Net-Cubes

have had a considerable graphic upgrade. Now they shine like electronic neon-lights and there are some squares in the background that simulate being far Net-Cubes to give more the feeling of a virtual universe.




The same thing happens in places like

Blacksquare Qubit-Battle

, which has especially improved in lighting.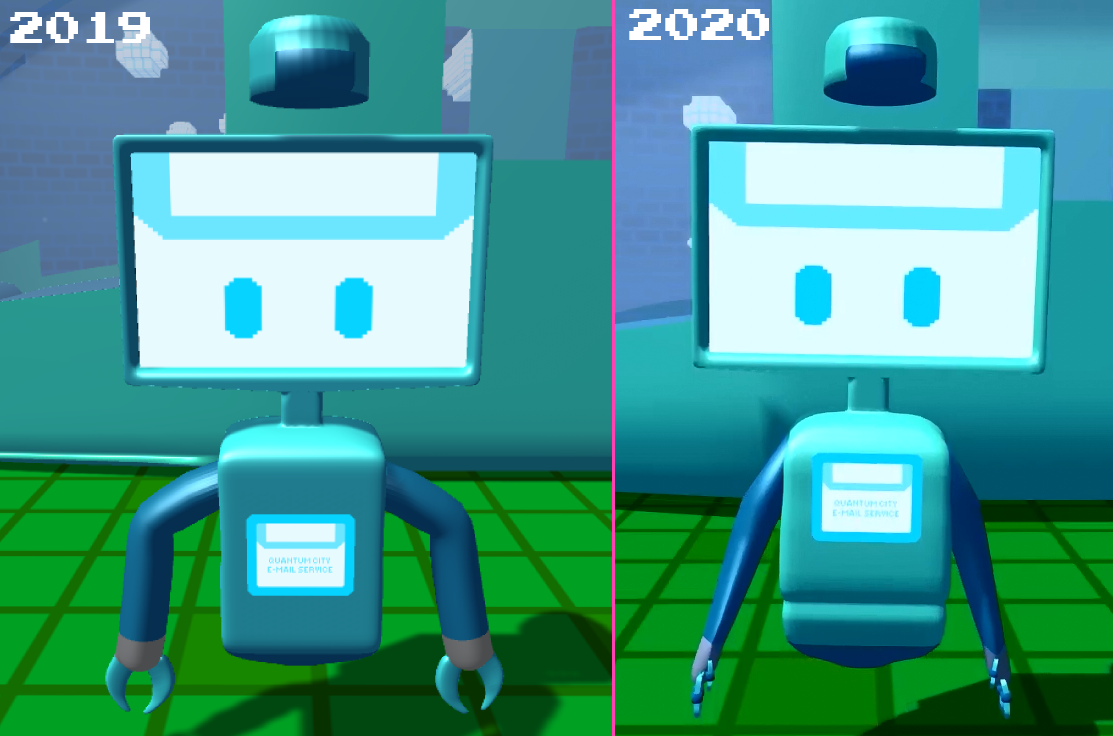 Even characters like

E-Mailer

have updated their design.


There have also been include two new Net-Cubes and characters in the game & more:



Gamezone Cube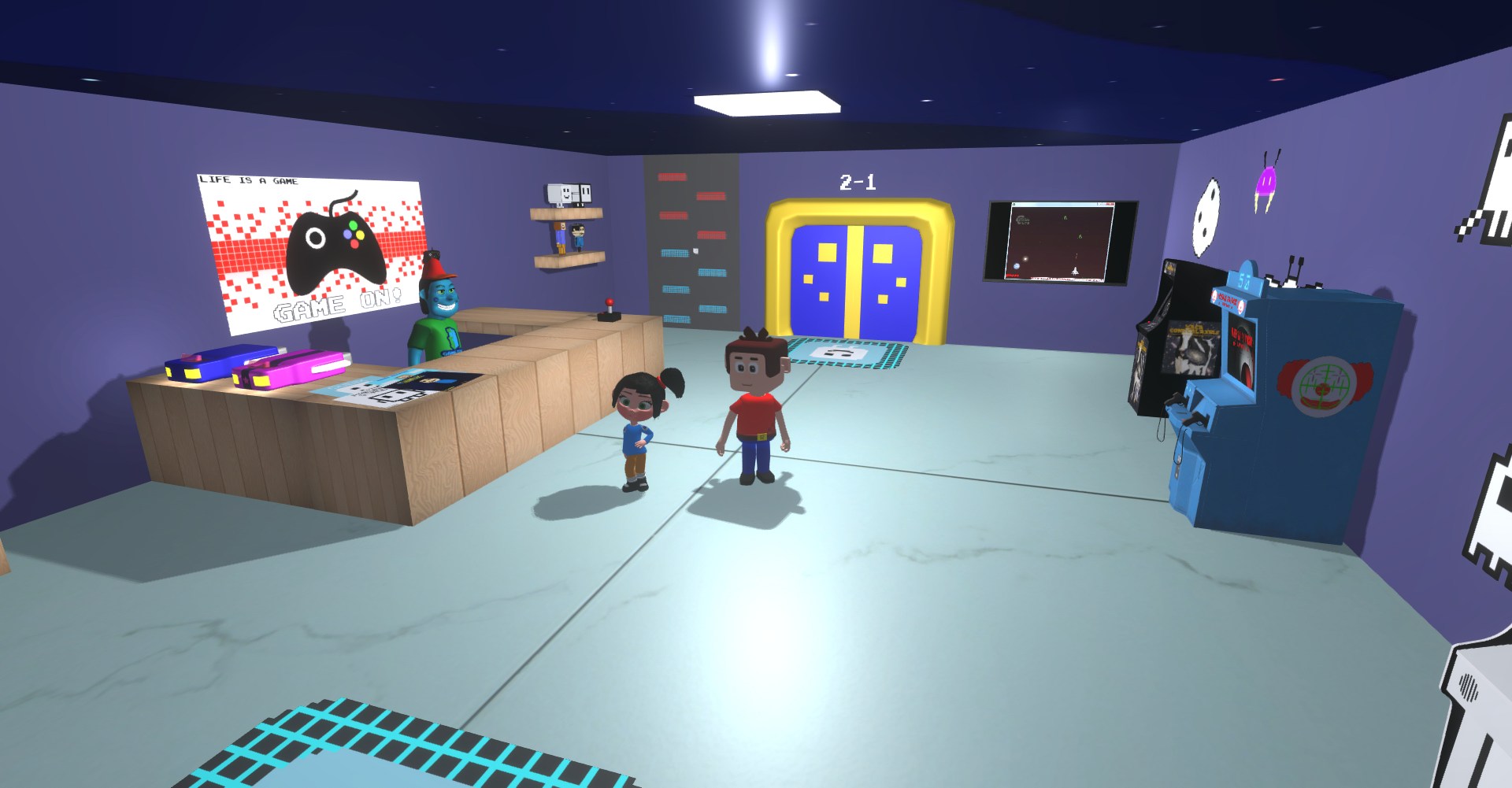 Is the

Net-Cube

where it emulates most of the videogames that

Lambert Wilson

had stored in the quantum computer for its subsequent preservation. And it's a home to a very eccentric and geek character.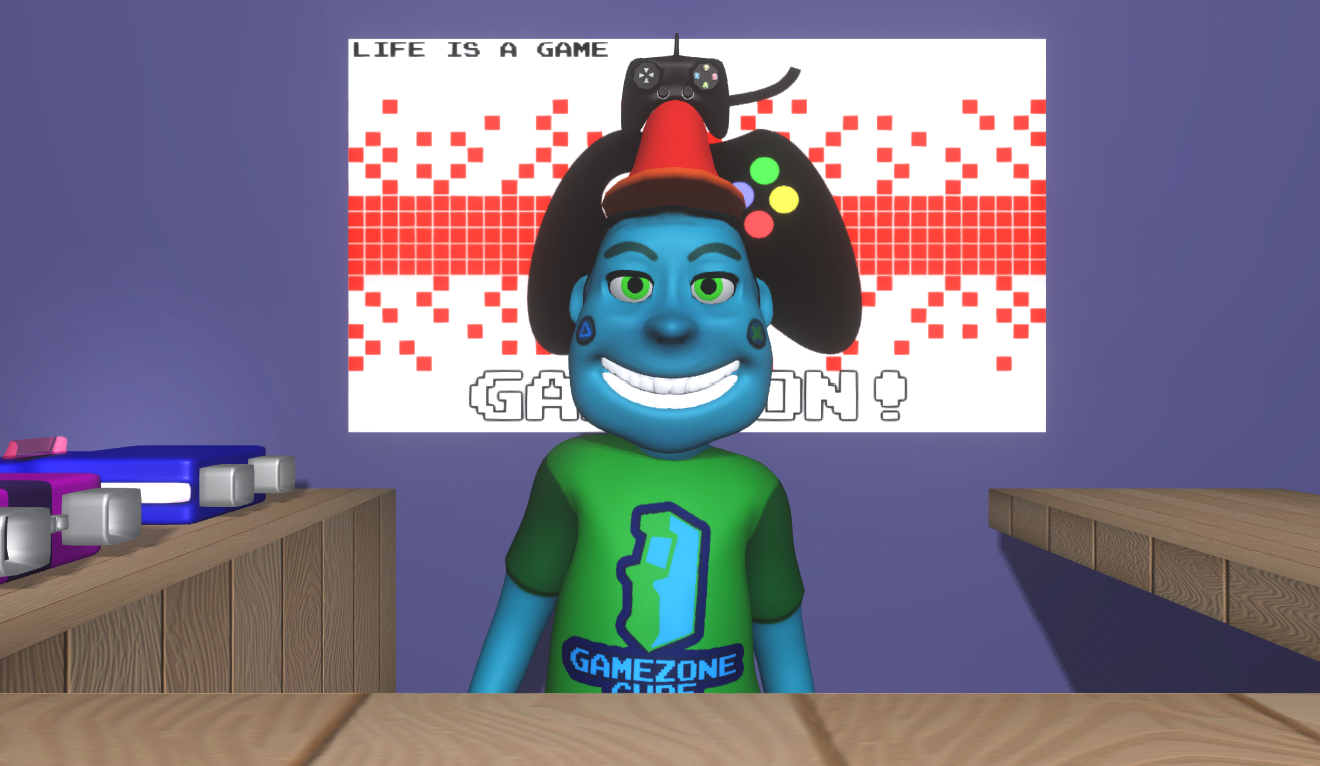 The "

Gameboss

" (aka

Jay Gamer McDay

) is the Supergamer owner of the Net-Cube of

Gamezone Cube

. He tests

Randy

and

Manilla

with several challenges with giant arcade video game machines.

(Many thanks

Tahabaria

for doing a great job in modeling.)



Abstractia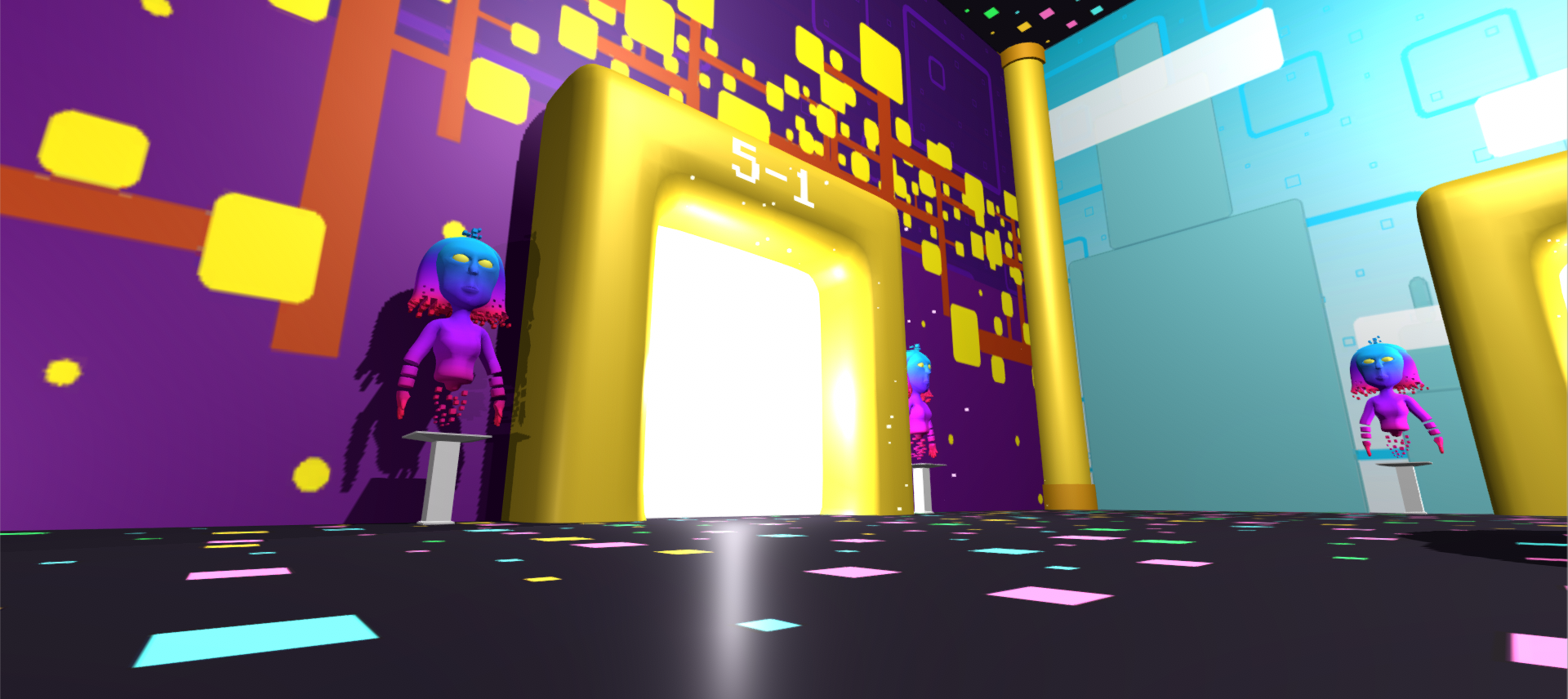 A challenging site set in relaxing and contemplative stages ruled by a

Giantess Spiritual Queen

. All connected in the

Cubic Hall of Sensations

.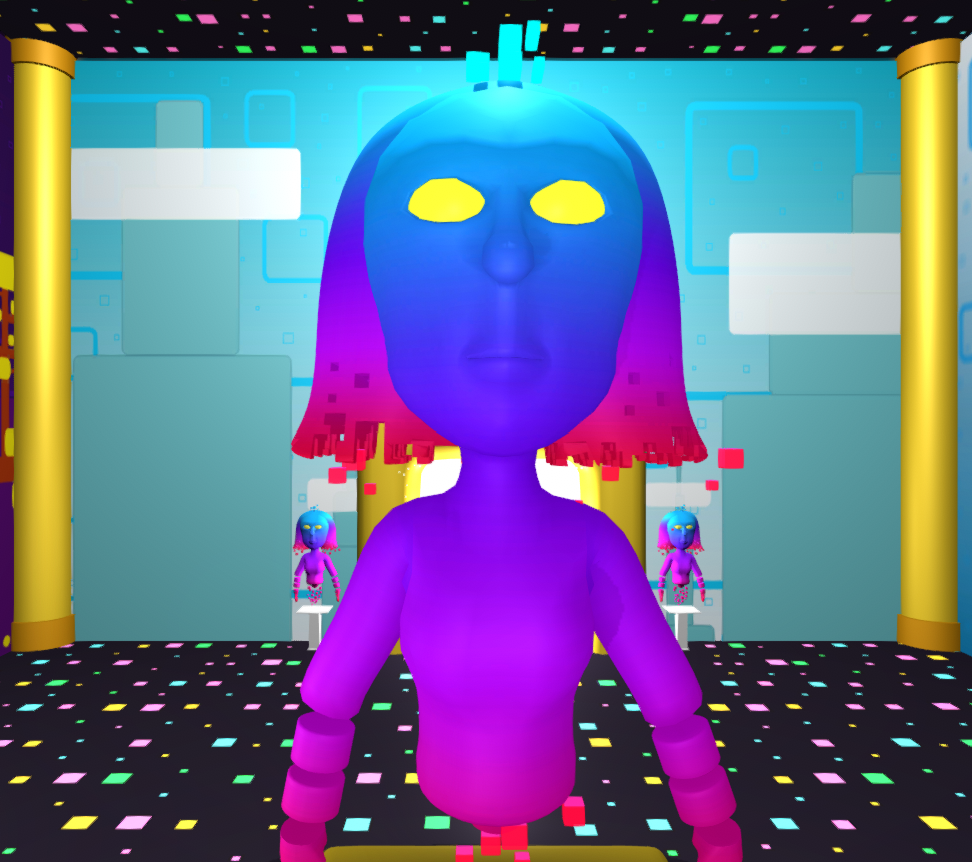 Virdueen

is the Queen of Net-Cube

Abstractia

. She is the one that points to

Randy

and

Manilla

specific emotional challenges in the

Cubic Hall of Sensations

.

(Many thanks

Sk_alfoyaj

for doing a great job in modeling).



Rank System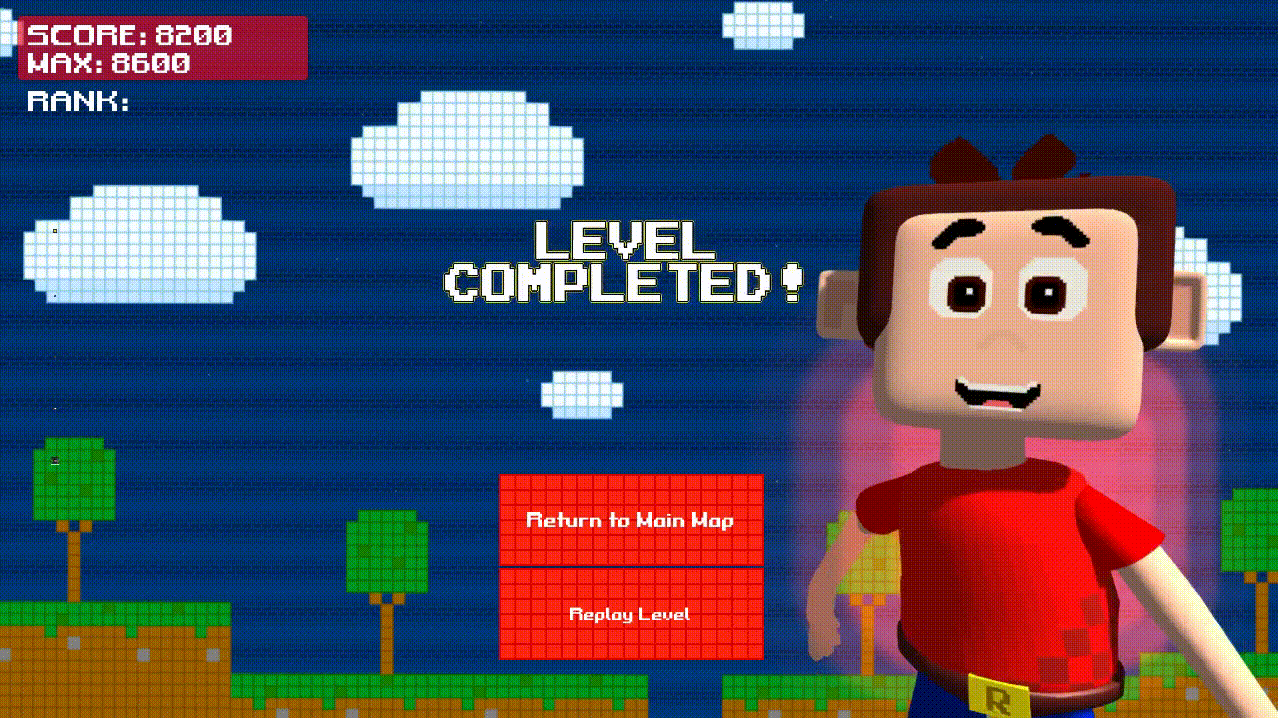 At the end of each featured level, for the most expert gamers, a

letter rank system

has been included that represents the number of points achieved until reaching the maximum possible for each level.

And there are still many more improvements and updates to show in this article: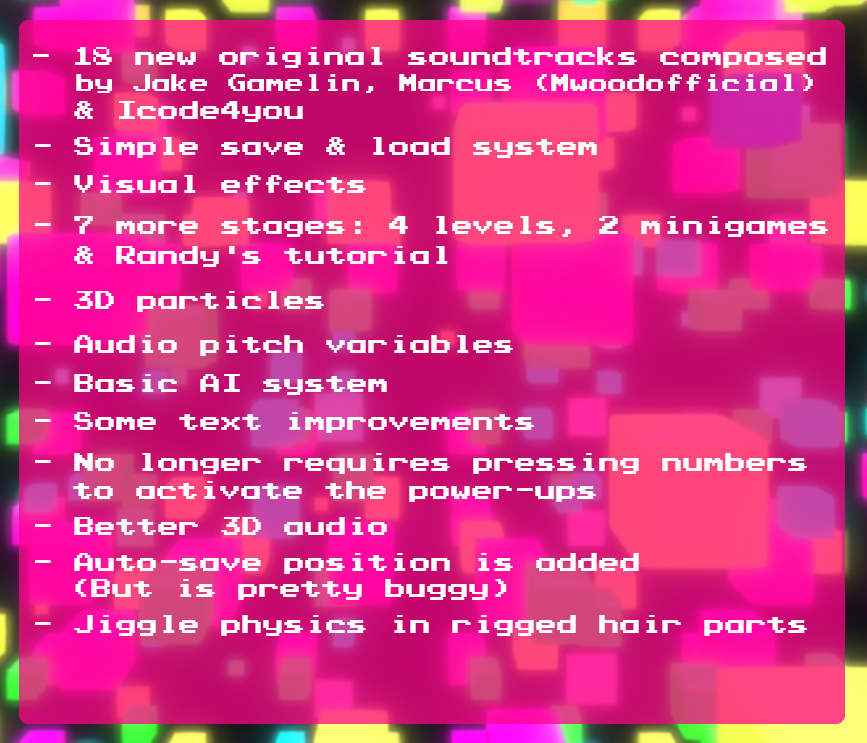 As you can see the

2nd alpha version

updates list is extensive.




Ko-Fi support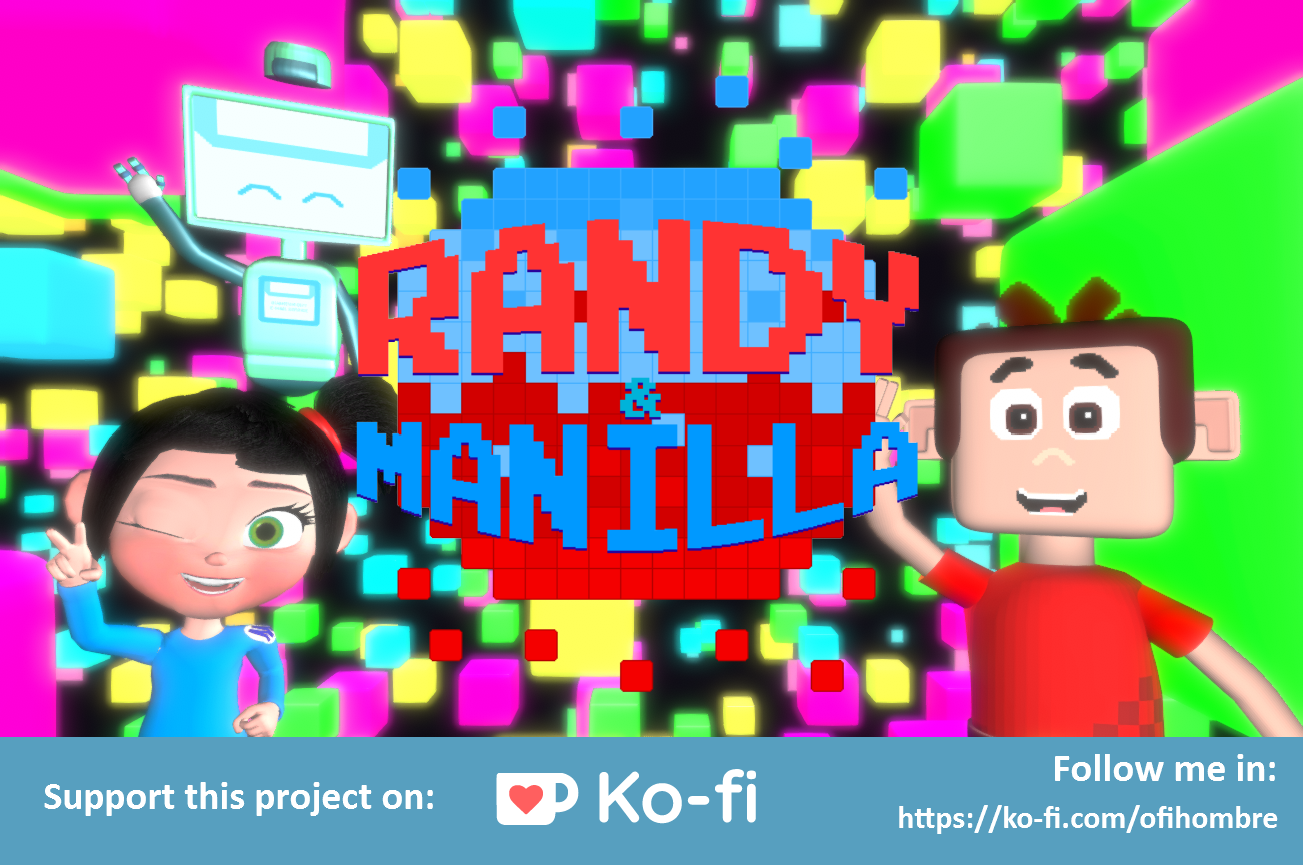 As last point, After finishing the stage of the

Indiegogo

campaign and searching for alternatives to

Patreon

,

Randy & Manilla

have now a

Ko-Fi

for more constant, gradual and optional support that doesn't necessarily require a deadline like

Indiegogo

or

Kickstarter

or a monthly tier like

Patreon

. Anyone can enter and the biggest followers of the project can contribute as many times as they want and when they are ready.

You can support this project with this link: https://ko-fi.com/ofihombre

We made every effort to offer this extensive list of updates to this indie project. This should perhaps have more recognition, but it seems that this isn't even enough.


Download links of

2nd Alpha

version for PC if you want try:



IndieDB

: https://www.indiedb.com/games/randy-manilla/downloads/randy-manilla-2nd-alpha-demo



itch.io

: https://ofihombre.itch.io/randy-manilla



Indiexpo

: https://www.indiexpo.net/es/games/randy-manilla


---
RE: Randy & Manilla (Help for developing) - ofihombre7 - 05-05-2020

Only a few days after launching the 2nd alpha of

Randy & Manilla

, the game It has been mentioned in several press sites and websites specialized in the videogame industry, and here I bring you a few example links:



Blue's News

: https://www.bluesnews.com/s/210632/etc


Gamasutra

: https://gamasutra.com/view/pressreleases/362268/Randy__Manilla_2nd_Alpha_Out_Now_on_itchio.php


Fandomfare

: https://fandomfare.com/2020/05/04/randy-manilla-2nd-alpha-out-now-on-itch-io/

This shows which game is succeeding, has brought a few more downloads, and quite a few visits from his trailer on

YouTube

. And speaking of the trailer however, although there are

9

users who like what I have shown (including me), there are

3

others who didn't like it, it was obvious that I still have a lot to polish and put in the game, and the fact that isn't entirely convincing worries me. Either by the way of the trailer or by the concept of the game itself, it could slowly turn into a hate storm, and it's possible that 3 things happen:

1. Because it is a bad trailer, it is a bad game and it will be forgotten.
2. The trailer is hated, but the game turned out not to be as bad as it sounds (Like

Zelda Wind Waker

).
3. The trailer is hated, but they will consume it equally by conformists (Like

Pokémon Sword & Shield

).

Ok, What do you think of this? What would make the game better and more enjoyable apart from a good feel, story and gameplay?


---
RE: Randy & Manilla (Help for developing) - ofihombre7 - 05-07-2020



4

dislikes in the tralier. Can you tell me what I did wrong there or is it part from the game itself?


---
RE: Randy & Manilla (Help for developing) - Simpsons Dumper - 05-07-2020

The internet dislikes things. That's what it does best. Still, more likes than dislikes, so I don't see it worth worrying over.


---
RE: Randy & Manilla (Help for developing) - ofihombre7 - 05-07-2020

True. There are quite a few things with dislikes that cannot be understood if they don't give the reason why are hated, but there are other dislikes that are justified: For example, the first

Sonic Movie

design was rightly hated because it wasn't faithful to the original

Sonic

, and was redesigned by another better in response to the dislikes. But in this case I haven't had a valid answer based on it. It doesn't contribute to make changes.


---
RE: Randy & Manilla (Help for developing) - ofihombre7 - 05-08-2020



5

Dislikes. Now I try to understand what is the error I had with this trailer: At first I thought that with that epic music, scene according to the rhythm and motion backgrounds were enough to make a very "professional trailer" that many like, As it turns out, he was very wrong.
I think the problem is that in the critical aspect it doesn't convey what I really want to show about the game, and it was worse when showing the characters, it was at a slow and boring pace, and with just the simple idle animations they don't show a certain personality.

Anyway, I think that when creating a trailer is to show the most remarkable, and the game still lacks a lot.


---
RE: Randy & Manilla (Help for developing) - Petie - 05-11-2020

Double-posting typically isn't allowed but permitted for updates on a project within a single thread. That said, please make sure you're adding something of substance if you're going to do it. Double-posting to add a meme to the thread is spam so I've deleted your last post.


---
RE: Randy & Manilla (Help for developing) - ofihombre7 - 05-11-2020

Sorry Petie, I was over of line with how bad reactions was the trailer, and I left the true purpose of this thread (Search help for developing & updates of the project). However, now that they have me given their opinions in the trailer, I try already understand that what it lack most is the history and consistency to go to those worlds so different from each other. (What do you think to make it more interesting?).


---
RE: Randy & Manilla (Help for developing) - ofihombre7 - 06-13-2020

I thought that from the

2nd alpha

, the world would be ready to meet

Randy & Manilla

, and yes, but there is one thing that I have been wrong apart from the trailer. I mean, I've been trying to improve everything, except for one very important factor; the

gameplay

, the two videos of people who have tried the demo speak for themselves:




When you see the two videos it seems that it has the same problem as the previous alpha in two of the main factors: The ship controls & Jumps of the characters.

Starting with the

ship controls

, after watching the

Fujinai

video, I believed that they are just the routes, it would be enough to direct them towards the corresponding

Net-Cubes

, but they seem that they are only of excuse if one doesn't know how to handle the ship well, or for the lack of a minimap that detects it (not to say that they are thin by moving away and makes it more difficult to find them).
At least I already figured it out and have things in the process including changing the ship's physics to avoid getting stuck in ineligible Net-Cubes or listing the Net-Cubes that correspond to the game's plot.

The second point, and I think the most complicated part is in the

character jumps

. They are the default ones that Unity brings. Before jumping, is has to run in the direction it has to jump, but it can't move while it still in the air. In 3D platformers, the characters can move around a bit while in the air after taking a great jump (example is

Mario

, or even

Crash Bandicoot

), I have been trying to figure out a way to make it move in midair, modifying the standard

third person controls script

(ThirdPersonCharacter.cs), but I couldn't get the proper method to do it.

I have also heard of other complaints, such as that it is difficult because have only one life, or that the camera can't be moved in the first

Terra-Qubit

levels, but I also have those solutions in process (as a simple life system or a two-camera mode), but well, it's always welcome who wants to help me in development.


---