Among my return to the forums, I want to bring up that I've done pixel art before and albeit it's not the best, it's certainly not the worse. In this Sprite Gallery, I will show off works, past and present so sit back, relax and let the pixels amaze you. Oh and don't forget about dropping criticism, that's a good requirement for improvement!
Revamps: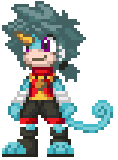 I admit. DragonBlossom wasn't exactly in it's prime back when I started it in late 2012 and the ridiculousness of its system was a bit too complicated, so I reset it's cast with the exception of the lead character. Now look at it! It's on it's way to be a much better looking game than before!
The massive metamorphosis. Look at how lovely the sprite turned out! (Look to your left)
Customs:
These are just fanarts. Majority is from the Ape Escape series.
Pixelart of one of my Inazuma Eleven GO fankids.
Did several variations of SARU from Inazuma Eleven GO!
..and did even Milla from Freedom Planet!