Mine to the sky
Genre: Platformer
Developed with: HTML5 using ImpactJS
So I've been posting a few gifs of my current progress with this game in the lounge topic on here, thought it was about time I made a devlog post.
So mine to the sky starts out with an astronaut who sets out to study the largest planet ever found in his solar system. Once getting close to the planet, the planet's high force of gravity sucks his ship down into the planet so fast that his ship burrows itself miles underground. With his ship damaged and his life support being the only systems working, he builds small robots to go out and look for resources and missing parts of his ship, so that he may repair his ship and make it off of the planet.
The game is a reverse miner game. Your goal is to gather resources, items, and face other challenges to advance your ship upwards. The further up you go, the more ecosystems and environments you come across.
No game is the same either. The game implements and random generation level structure much like rogue legacy. Most blocks are destructible and allow for interesting ways of solving challenges and shaping your experience.
Every room in the game is designed much like any normal platformer, but with this destructible block aspect, each room becomes and opportunity for resource gathering for crafting new abilities and items.
As the design becomes more an more fleshed out I will post updates on here and on my twitter.
http://www.twitter.com/codestargames
Here's a few of the gifs I've posted, as well as some concept art.
gif showing off lava physics
**newest
gif showing off block damage animation
Early concept art for the robot.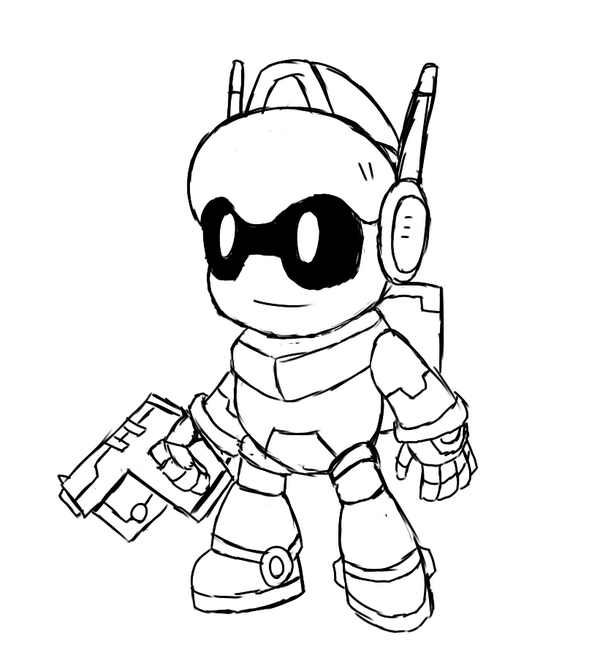 There will also be many other different kinds of robots to choose from after getting upgrades.

Super early screenshot showing a few resources buried in the dirt